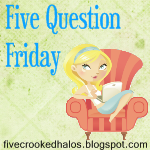 1. Who wakes up in the morning with the kids, you or hubby?

Always me. During the week we I get up at 8 am with the kids and after I drop them up at school my husband typically gets up shortly after that. Then on the weekends we all normally wake up at the same time, usually around 10 am.

2. Do you watch the World Series even if your team isn't in it?
Actually I don't care much for baseball. I find it rather bland, even when watching live at the game. I just cannot seem to get into it. Though in my defense I am not a huge sports fan in general. 
3. What is the best compliment you have received?
Occasionally while out in public we get compliments on how well behaved our kids are. (Yes, I know that my blog name says that they are really loud, but thats normally only whenever we are at home, in public they are normally angels.) I have to say that the very best compliment that a mother can get is for other people to compliment their children. It lets me know I must be doing something right. 
4. Do/did you dress up to take your kids trick or treating?
Yes. But we didnt always dress up to take the kids, that is something we started over the last few years. I think the reason we did not used to dress up is because we were always strapped for money. This year I had planned on dressing like Flo (from the Progressive commercials) but its supposed to be pretty cold outside, and I cant commit to wearing both a costume AND a coat.
5. Do you have a favorite bible verse? What is it and why?
Yeah. So I guess this cant apply to me because I am agnostic, or well, maybe it can but I just do not know any bible verses.